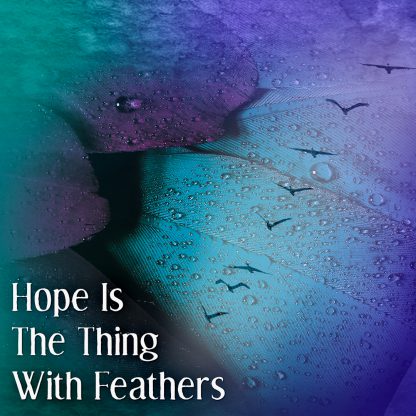 'Hope Is The Thing With Feathers' ft. Oliver & Adaya from FAUN (song)
€4.00 – €20.00 Incl. VAT
To really help us and respect the musicians involved in this project, please do not distribute this song to friends, family, on social media platforms, streaming services or otherwise. This helps us keeping the song special and unique. Please note: downloading this song is only possible if you have an account and are logged in. You will also always find it under "Mijn account" and "Bestellingen".

The single 'Hope Is The Thing With Feathers' was developed by Štěpán Honc, Kati Rán, Oliver Satyr and the musicians of the "Castlefest Folk Collective", as an initiative to support Castlefest during this impactful time. All of it's proceeds will be used to make sure fantasy can stay a reality.
"We hope the song may serve as a reminder that even in challenging times there is always a silver lining on the horizon, that can become a little bit brighter when we work together for a common cause. With you together, we like to share our collective made single with Vana Events, so that we can all meet again at the beloved Castlefest festival in better times to come."
– Castlefest Folk Collective -
We, from Vana Events, are very humbled by this fantastic gift and hope you will enjoy this wonderful song as much as we do. You can choose what amount you wish to pay for this song yourself. This product is a digital download. You will receive the link to download the .mp3 file after payment in the confirmation screen as well as in the confirmation e-mail.
CREDITS
Production: Štěpán Honc (PerKelt), Kati Rán (Rán), Oliver Satyr (Faun).
Arrangement: Štěpán Honc (PerKelt), Oliver Satyr (Faun).
Tekst: Oliver Satyr (Faun).
Mastering: John Spence (FairView StudiosUK)
Performed by the Castlefest Folk Collective
Vocal: Oliver Satyr (Faun)
Vocal: Adaya (Faun)
Supporting vocal: Kati Rán (Rán)
Supporting vocal: Sara Saar (SeeD, Anúna)
Supporting vocal: Paya Lehane ( Perkelt)
Instruments
Guitar: Štěpán Honc (PerKelt)
Accordeon: Laurens Krah (Pyrolysis, Imbue)
Hurdy Gurdy: Quentin Maltrud (Le Garçon de l'Automne)
Hurdy Gurdy: Adriana Borger (former-Waldkauz)
Piano: Alex Nicola (former-Scardust)
Recorder: Paya Lehane (Perkelt)
Viola: Marijn Lammertink
Violin & mandoline: Corné van Woerdekom (Scrum, Finvarra)
Cajon: Tuaq Pijlman (Plunder)
Drums, Guda drum: Rob van Barschot
Choir
Maryn & Evelyn Sies-van der Horst (Knotenpunkt, Duizel), Evelyn Sies (babyshaman), Sara Saar (SeeD, Anúna), Helen Flaherty (Shantalla), Chloe Bakker (Sowulo), Koen van Egmond (SeeD), Tim Elfring (Pyrolysis, Imbue), Quentin Maltrud (Lupercales, Le Garçon de L'Automne), Rikke Linssen (Pyrolysis), Eveline Verburg (Twigs&Twine), Gwendolyn Snowdon (Finvarra), Corné van Woerdekom (Scrum, Finvarra), Marijn Lammertink, Robin Lammertink (Imbue).
Additional information
| | |
| --- | --- |
| Price | €4,-, €5,-, €7,50, €10,-, €15,-, €20,- |